Muaaz Abdul Hadi, Wissenschaftler der Area 4.2 – Kognitive Produktionssysteme, veröffentlichte ein Paper im Journal of Cleaner Production. Das renommierte Journal ist ein internationales, Journal mit Schwerpunkt auf nachhaltiger Produktion und Kreislaufwirtschaft.
Das Paper mit dem Titel "Sustainable peak power smoothing and energy-efficient machining process thorough analysis of high-frequency data" befasst sich mit energieeffizienter Zerspanung durch innovative Technik der Datenerfassung und -analyse. Es wird gezeigt, dass die Nutzung hochfrequenter Maschinendaten zur Prozessverbesserung gezielt zur nachhaltigen Spitzenleistungsglättung für Spindeloperationen führen kann.
Das Paper wurde von einem interdisziplinären Expertenteam, bestehende aus Markus Brillinger, Marcel Wuwer, Johannes Schmid, Stefan Trabesinger, Markus Jäger und Franz Haas mitverfasst.
DOI: https://doi.org/10.1016/j.jclepro.2021.128548
Keywords: Energy-efficient machining; CNC machine; Power peak reduction; Edge device; Spindle start-up; High frequency data analysis
#Energy-efficient-machining #SustainableProduction #PeakOptimization #HighFrequencyEDA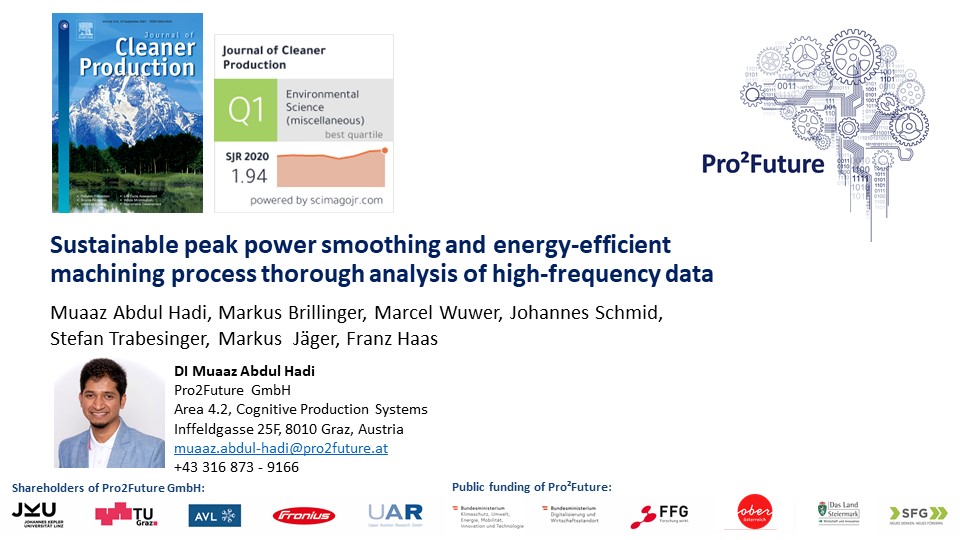 Publikation @ Journal of Cleaner Production